With friendly hometown service and national buying power, Galloway's Flooring Warehouse, Inc. offers Polk County the best selection of flooring products at the best prices.  Galloway's Flooring Warehouse is family owned and operated and has been serving Polk County's residents for more than 26 years.  Galloway's name comes from their original location back in '83, when they were positioned next to Bert's Meat Market- right off Galloway Rd. and Kathleen Rd in north Lakeland.  No matter the location, Galloway's loyal customers know where to go for superior quality materials and dependable installation, so they keep coming back time and time again.
Galloway's buys from the top mills and manufacturers in the country, and carries more than 300 rolls of carpet in stock. Their large inventory of carpet remnants allows customers to get top quality carpet at a fraction of the price.  Galloway's also prides themselves on superior carpet installation.  Installers are carefully screened, licensed, bonded, and insured, in order to give their customers peace of mind. The job is also done right the first time- on time.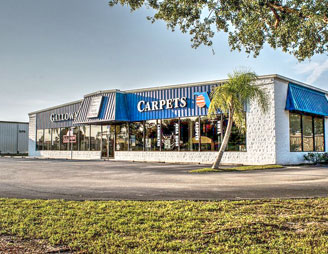 Carpet isn't the only thing Galloway's Flooring is known for. They have over 600 area rugs in stock, giving customers the largest, most varied selection of area rugs in Polk County.  Walking through their selection of area rugs is a bit daunting at first, but the wide-opening, easy-to-swing racks make the experience very enjoyable.  In-stock rug sizes range from as small as a 2'0" X 3'0" to as large as an 8'0" X 11'0".  Other standard sizes can be ordered, and usually take only about a week to come in. There are also many unusual rugs, including rounds, squares, ovals, octagons, oversize rugs, braided rugs, and custom rug programs available.
Galloway's Flooring Warehouse, Inc. also carries the top brands of hard surface flooring materials; including, Pergo Laminate, Formica Laminate, Versini Wood, Shaw and Mohawk Porcelain and Ceramic Tile, Nafco Luxury Vinyl, Domco Vinyl and Fiber Floor, and Azrock VCT.  Whether for your home or office, they have the right flooring solution for your unique situation.
Want to "Go Green?"  Galloway's Flooring offers many flooring choices that allow you to recycle, reduce, and reuse.  Shaw's Anso Nylon and Nylon 6 carpet fiber uses post consumer materials, and can be recycled again into new nylon carpet.  Mohawk's PET Polyester carpet even starts from recycled plastics. Laminates also use over 80% recycled material, and cut down on the use of endangered woods. Even wool rugs are eco-friendly, being a renewable resource.
Too many choices? Don't know where to start?  Although the best option is to stroll through the 10,000 square foot showroom, you can get a head start at their website.  The website is filled with information, along with motivating and inspiring room scenes in their Idea Center and Gallery of Rooms.  Visit the online Help Center to find "how to" information, decorating tips, cleaning instructions, educational links, FAQs and more.
Once you're ready to start searching for your perfect floor or area rug, experienced, knowledgeable staff are eager to help you explore the many top quality products and name brands offered by Galloway's Flooring Warehouse.
Galloway's, the original carpet warehouse in Polk County, has built its reputation on first quality materials, expert installation, and excellent service.  The company has also won many consumer choice awards, and has the highest rating of the Better Business Bureau and Polk County's Better Business Council.  Customers know they can trust Galloway's for quality, price, and integrity.
Galloway's Flooring Warehouse is centrally located at 2145 E. Edgewood Drive, Lakeland, and is open Monday through Friday from 9:00 AM to 5:30PM, and Saturday from 9:00 AM to 4:00 PM.  Phone: (863) 665-5900.
Let Galloway's experts help you with all your flooring needs.
With friendly hometown service and national buying power, Galloway's Flooring Warehouse offers Polk County the best selection of flooring products at the best prices.
OR CALL US NOW AT
863-665-5900