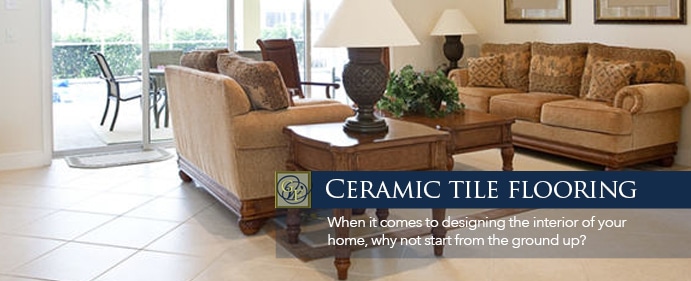 Let Galloway's experts help you
with tile flooring.
With friendly hometown service and national buying power, Galloway's Flooring Warehouse offers Polk County the best selection of flooring products at the best prices.
OR CALL US NOW AT
863-665-5900
Lakeland's Largest Selection of Ceramic Tile
Benefits of Ceramic Tile:
Ceramic Tile is fire resistant.  Hot kitchen skillets or pans cannot scortch or melt the surface of glazed ceramic tile.  This product is ideal for somewhere you might have candles, cigarettes, or a fireplace.
Ceramic Tile is fade resistant. UV rays do not affect its coloration. About one of the only products provided in color that does not fade.
Ceramic Tile can be installed over existing tile. With a thin layer of thinset, you can install over an existing floor and change the heigth very little. This reduces waste.
Ceramic Tile is economical.  This flooring costs less per year than all other floors.
Ceramic Tile is water resistant. Ceramic tile that is glazed has a dense body that allows little or no moisture accumulation. One of the only flooring materials that can withstand flooding.
Ceramic Tile can be repaired. Its possible to repair and replace a damaged tile. There is no need to remove the rest of the area.
Ceramic Tile is easy to clean. It can be cleaned with a damp mop or swiffer. Glazed tile resists dirt, odors, and stains.
Ceramic tile is made up of a mixture of clays that has been shaped and fired at high temperatures, approximately 2,000 degrees Fahrenheit, resulting in a hard body. Porcelain tile is made up of special clays and minerals. It is fired at extreme temperatures, up to 2,500 degrees Fahrenheit, allowing the tile to be harder and denser than other tiles. Both types of tile can be left unglazed, allowing it to be wear and slip resistant, or finished with a glaze, allowing an unlimited array of colors and design. Tiles are rated on a 1 through 5 scale by the Porcelain Enamel Institute (P.E.I.) based on the performance expected and appropriate application. Tiles rated as a 1 or 2 are intended to be installed on the wall. The 3 rated tiles can be installed in residential and light commercial applications. A 4 rated tile can be installed in all residential and moderate commercial areas. A 5 rated tile can be installed in all interior, exterior, and commercial applications.
There are many size options available for floor tiles, beginning with a 6×6 and increasing in size up to a 24×24. Some tiles are also available in a 12×24 rectangular size. The wood looking tile is very popular and available in various widths and  are generally 24 inches long.
We have a nice variety of mosaic and glass mosaic tiles as well. Mosaics and glass tiles will make a nice statement as a backsplash in the kitchen, bath, or shower.
Cleaning is very easy for tile because it is able to be mopped, steamed, terry clothed spot cleaned, swept, and vacuumed. Water is no problem for tile, making bathrooms, laundry rooms, and kitchens perfect for this type of floor.