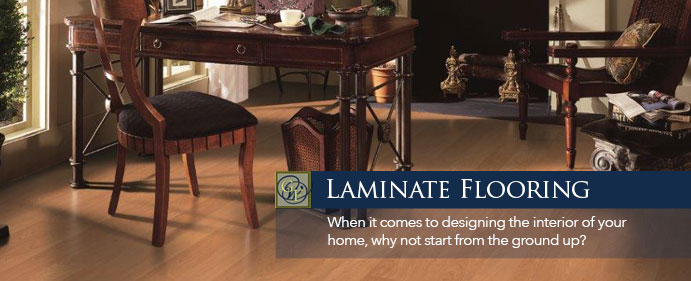 Let Galloway's experts help you
with laminate flooring.
With friendly hometown service and national buying power, Galloway's Flooring Warehouse offers Polk County the best selection of flooring products at the best prices.
Lakeland's Best Resource for Laminate Flooring
Why purchase laminate flooring? There are many reasons! Laminate comes in a variety of styles-elegant to rustic. Laminate flooring is warm, friendly and durable. It's a very easy product to clean, and will not harbor mold, dust, or mildew. Laminate is scratch resistant which makes it a good product in regards to animal nails. Laminate comes with beveled or non-beveled edges and is available in small and wide planks. Other finish options are wood grain, hand scraped, distressed, and grain matched.  Looking to brighten a room or space? Pick out a lighter color laminate floor. Looking to add drama or character to a room? Go for a dark color.
Why to purchase laminate flooring over wood flooring: Here are a few things to keep in mind.  Wood flooring is not a very durable product in some aspects. It is easily damaged by sun light. It is susceptible to scratches, burns, dents. It swells and warps and spots with prolonged water exposure. Some wood flooring requires routine waxing and/or refinishing.
Why to purchase laminate flooring over vinyl composite tile (VCT)?  VCT requires regular waxing and refinishing. Laminate does not.  VCT discolors with age. As far as installation goes, VCT requires extensive sub floor preparation and is labor intensive to glue down.
Why to purchase laminate flooring over carpet? Carpet will show signs of wear and traffic patterns over time. Carpet retains odors, mold, and mildew which will affect allergies. Laminate flooring will not.
Benefits of purchasing laminate flooring over ceramic tile? Ceramic tile is very costly to install vs laminate. Ceramic tile is difficult and expensive to repair if a tile breaks. Grout on tile is easily stained and requires regular maintenance. Ceramic tile is has a very hard and unforgiving surface which increases injury risks.
Laminate or sheet vinyl? Sheet vinyl yellows, dents, curls and can tear. It can also be easily stained and scratched and requires careful sub floor preparation. Even minor sub floor imperfections telescope through surface. With laminate flooring, you do not need to worry about that. Sheet vinyl has very limited design options when comparing to laminate floors.