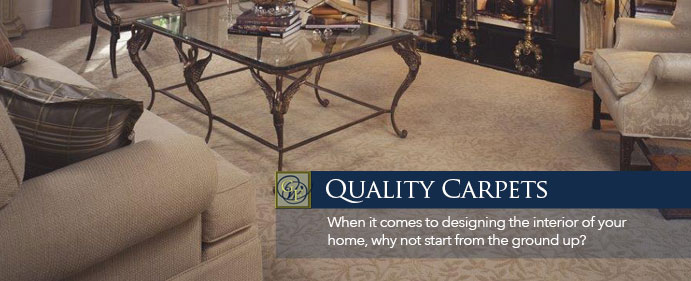 Let Galloway's experts help you
with your carpeting needs.
With friendly hometown service and national buying power, Galloway's Flooring Warehouse offers Polk County the best selection of flooring products at the best prices.
OR CALL US NOW AT
863-665-5900
Lakeland's Best Selection for Quality Carpet
When it comes to choosing a carpet there are a few things that need to be considered…
Is there light or heavy traffic in the room? Carpet is available in may color options, but if there is going to be a lot of traffic coming from outdoors, a light color might not be the best choice.
Is the room small or large? Rooms that are smaller will appear even smaller if a dark color of carpet is installed and there is not a good light source in the room.
What kind of lighting is in your home? Natural lighting will show the true color of the carpet. Carpet will appear darker in rooms that don't have as much lighting.
What type of carpet do you want? There are many types of yarn construction, such as plush, frieze, shag, berber, and cut and loop patterned carpet.
How is the room going to be used? Carpet is made for residential and commercial purposes. Having the right kind of carpet is going to allow the carpet to wear for a longer period of time. The appearance, longevity, and texture of a carpet have a lot to do with the type of fiber it is made from as well.
Polyester is a carpet fiber that offers stain and fade resistance. It has great color clarity and performs much better than in years past. It isn't as long wearing as a nylon but it will clean well allowing it to look better for a longer period of time. It is a family friendly fiber that makes a room cozy and easy to spot clean when needed.
Nylon is the most versatile of all the fibers. Nylon is durable, resilient, and very receptive to the dyeing process allowing a various color selection and uniformity. Nylon is not stain resistant, however most feature some kind of stain-resistant treatment to protect against household spills and stains.
Polypropylene fiber will not fade when exposed to sunlight, bleach, or harsh chemicals. It is normally used in loop pile construction because it is not as resilient as other fibers. The loop pile construction hides the wear patterns better than the cut pile construction.
PTT (Polytimethylene Terephthalate-Triexta) is a polyester fiber that repels spills and stains. The yarn system is constructed to have a memory to give a bounce back, retaining its original position, thus allowing the carpet to wear longer. It is recommended that socks be worn rather than bare feet with a Triexta yarn because the natural oils from your skin will overtime cause staining that is hard to clean.
With any fiber of carpet, spills need to be cleaned with plain water first. Detergent solutions can be used but need to be sufficiently rinsed with plain water or it will leave a sticky residue that will then attract more dirt to that area.
Let's Talk Pad…
Carpet padding is very important in the wear and longevity of your carpet. It is recommended that you replace your padding when you replace your carpet. Rebond pad is constructed of recycled materials and compressed into the foam. Pad determines the feel of your carpet when you walk on it. A 3-4 pound pad isn't going to help the carpet wear but just something to put down. It also helps your carpet maintain its original appearance over time. A 6 pound pad is going to allow the carpet to wear well and hide traffic patterns. Pad also helps absorb the impact of foot traffic. An 8 pound pad is an upgrade that will allow the carpet to wear even longer and great for high traffic areas. There is a denser 8 pound pad that is used for a berber carpet that will wear nicely but not give a cushion under your carpet. The construction of a berber carpet is intended to be more firm.
Below is pictures of our showroom and inventory. Find great deals on in stock carpet and remnants!!